Want to hire the right people?
…so do we
Talent is the core of any company's success, and hiring the right talent can be difficult. Good hiring has the Three C's:
Competency – They can do the job. They have the skills, experience and ability to actually complete the tasks you're going to set them.
Commitment – They want to do the job. They are motivated to want to do the job now and in the future, for your product and your brand.
Culture fit – They are the right culture fit for the team. They will make themselves, the team and the company better. That's where we come in!
Ever hired someone who didn't fit?
Yep us too…
Whether you've hired someone who didn't fit in, or joined a company which still has the scars, all recruiters know how difficult it is when you make a bad hire.
It can be obvious on day one or creep up on you after a couple of months, but when you realise you've made a mistake the effects are apparent: managers overwhelmed with extra work, lower morale for individuals or the whole team, frequent changes to carefully planned on-boarding and more.
Identifying the problem is just the start. Then comes the dilemma over whether to try to fix the problem or replace the hire. Either way it's going to take energy away from management and HR, and even if you hire a replacement, there are no guarantees that it won't happen all over again.
89% of bad hires are due to reasons other than skills*
*Leadership IQ study of over 20,000 new hires
It's a big number, but it's obvious to most recruiters. When you hire new people, you are normally pretty sure they have the capacity to do the job. Hiring assessments and previous experience provide pretty solid checks and balances against hiring people that literally cannot do the job.
Where current hiring practices are yet to catch up, and the reason 89% of hires fail, are for non-technical reasons e.g. culture fit.
ThriveMap helps us to hire for cultural fit based on real insight rather than a gut feeling.  It is the tool we have been looking for that focuses purely on culture and the great thing is it brings value to the candidates and also the hiring teams.  It makes culture a tangible rather than nebulous concept

Jo Steel, HR & People Manager, Belron International
Be confident you've hired a good fit
Every recruiter wants every hire to be a success…
You want positive feedback from the manager and the team, and the certainty in knowing that you've helped make that team even better.
What's more, you want to know you'll get that success for every hire, every time, from the moment you start filtering CVs through to their first day on the job. With confidence in how you select for fit, you'll be able to focus your energy on the future.
The Chartered Institute of Personnel & Development (CIPD) puts the cost of mis-hiring between four and six times the employee's salary, while some reports put this figure at as much as 14 times.
Either way, hiring the wrong person is expensive so we want to ensure we have all the data to make a fully informed choice.
Uniquely ThriveMap
Measuring culture fit
An innovation created from the unique candidate perspective, ThriveMap offers not just a measure of culture fit not found on any competing product, but a truly comprehensible and enjoyable solution to avoid bad hires.
We're the only platform that measures how people like to work rather than who people are (the approach you'll see with personality tests),
…we're the only platform designed to help the entire team and not focused solely on an individual candidate or role,
…and we're the only platform that gives you an objective measure of culture fit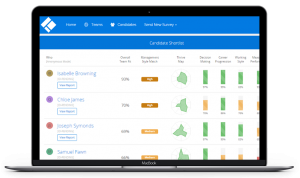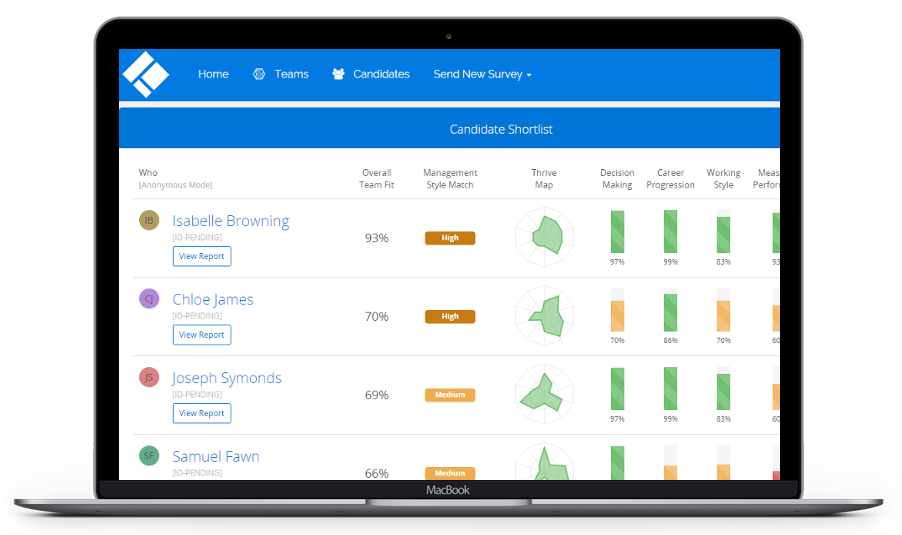 Hiring decisions are very costly when a business gets it wrong therefore I am always interested in any tool to help us make an  informed choice. I strongly believe that for a team to be successful they need to understand each person individually, ThriveMap helps back this with data.

Ami Parker, Head of HR and Operations, Teespring
Try it yourself!