Want to save time and money while recruiting?
…who doesn't?
With ThriveMap, you can hire for cultural fit more…
Quickly –  Pre-screen candidates to avoid interviewing candidates who wouldn't like to work in your culture.
Consistently – By creating a common culture language, recruiters and managers alike can communicate what they are looking for in a candidate when it comes to culture.
Accurately – Most importantly, you can see if a new hire is going to fit in with the team, avoiding those costly mis-hires
Ever wasted time interviewing a candidate who wasn't a good fit?
Yep us too…
After almost a decade in recruitment, I spent far too long interviewing candidates who were ultimately rejected due to "culture fit".
Similarly, when recruiting for my team I'd regularly meet with candidates who, within minutes, I'd know wouldn't be a fit and everyone's time would be wasted. More often than not this wasn't about personality, after all the best team's are full of different personalities, it was more important than that, it was that they just wouldn't thrive in our culture.
Thankfully, we've developed a way of filtering out these bad interviews before they even take place. By comparing the work environment a candidate desires with how the team like to work we can eliminate painful mis-matches and save time and money by only interviewing the best fit candidates.
89% of bad hires are due to reasons other than skills*
*Leadership IQ study of over 20,000 new hires
It's a big number, but it's obvious to most recruiters. When you hire new people, you are normally pretty sure they have the capacity to do the job. Hiring assessments and previous experience provide pretty solid checks and balances against hiring people that literally cannot do the job.
Where current hiring practices are yet to catch up are for non-technical reasons e.g. culture fit.
Be confident you're interviewing the right people
Spend less time screening and more on the candidates that fit
You want to send the manager the candidates who have the best chance of being able to do the job.
Whats more, you want the manager to know that each and every candidate you send would have the potential to work well with the team.
You want positive feedback from the manager and the team, and the certainty of knowing you've helped make that team even better.
Uniquely ThriveMap
Measuring culture fit
An innovation created from the unique candidate perspective, ThriveMap offers not just a measure of culture fit not found on any competing product, but a truly comprehensible and enjoyable solution to avoid bad hires.
We're the only platform that measures how people like to work rather than who people are (the approach you'll see with personality tests),
…we're the only platform designed to help the entire team and not focused solely on an individual candidate or role,
…and we're the only platform that gives you an objective measure of culture fit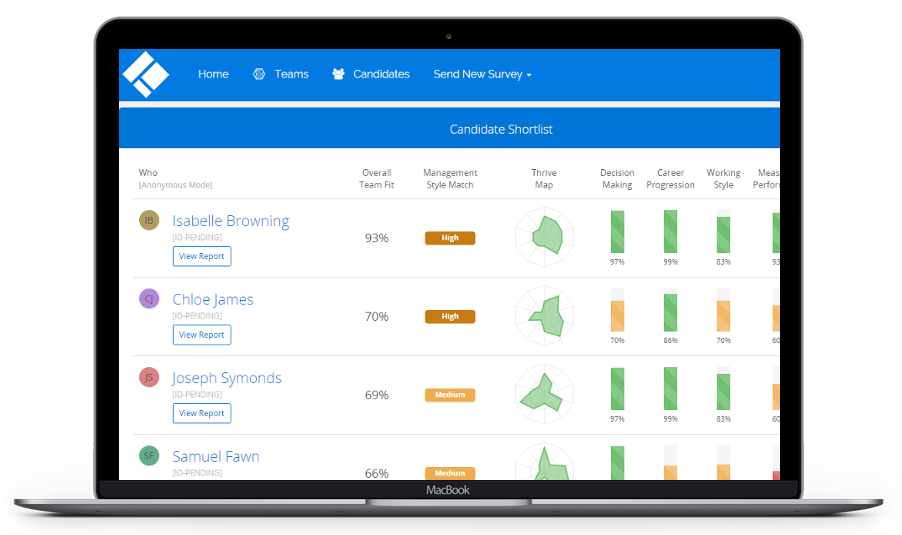 Using ThriveMap, you learn how your team likes to work, you learn how your candidates like to work, and then compare the two for a true culture fit assessment.
Try it today!