The digital ecosystem of Talent Technology companies is complex. Lots of companies talk a great game, but finding out what they actually do and how they do it takes work. This article cuts through the noise (and empty marketing promises) to provide you with insight into 9 of the most commonly used candidate selection tools.
Why use candidate selection tools?
Today, the job market is more competitive than ever before, making hiring the right talent difficult, time-consuming and expensive. For companies with high employee turnover or high application volumes, recruiting tools are now a necessity, not a luxury.
The benefits of having a smooth, automated and consistent candidate selection process are obvious; here's just a few.
Time is money. Candidate screening tools will save you time which will, in turn, reduce your average cost per hire.
Hire a person, not a CV. Assessment tools allow you to make judgements beyond the standard information included in a resume. Online assessments can digest data about cognitive ability, job suitability, personality and cultural fit.
Boost your employer brand. Personalised talent assessment tools can offer guidance, support and information to candidates throughout the application process. The right assessment tool should increase the desirability of your roles and brand in the minds of suitable candidates. It should communciate your employee value proposition and can actually encourage unsuitable candidates to deselect themselves from the hiring process.
Put simply, candidate selection tools help you recruit the best talent, more quickly, and for a lower cost.
9 effective candidate selection tools
ThriveMap assessments are real-life assessments.
Uniquely, our assess,emts take candidates through a digital "day in the life" experience of a specific job within an organisation. They consider how desired behaviours express themselves within your unique company culture and work environment.
This "real-life assessment" approach is more predictive than using templated assessments as they are customised to consider the specifics of your hiring requirements, the nuances of your culture and communicate the realities of your jobs to candidates in the process. We call these Realistic Job Assessments (RJAs for short).
Candidates are scored and ranked directly in your ATS and interview reports provide automatically generated interview questions to enable a fairer more accurate hiring process.
ThriveMap's assessments also get more predictive over time, through their Assessment Optimisation Engine which pattern matches assessment data with post-hire performance data. This means with ThriveMap your company is building a unique asset, a predictive model of success which enables your company to consistently select the right people.
Companies using ThriveMap include Safelite Autoglass, Hermes, Dolby, TELUS and Bulb Energy.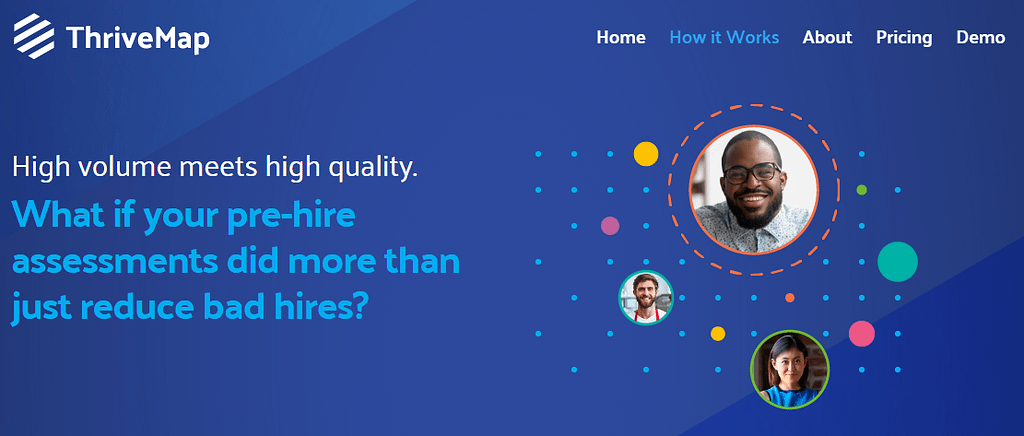 Pricing: Custom, transparent pricing. Request a demo.
Automatic grading is the name of the game for AssessFirst. Candidates are compared, graded and placed in a list of suitability for clear and simple ranking from the start. The user-friendly interface is a real benefit, letting you see at a glance who is most suitable for the job.
Pret A Manger is an AssessFirst success story. Not only do they use the automatic grading system to easily recruit the right employees, but this recruiting tool also allows HR teams to get the most out of their employees by identifying key personalities, motivations and preferred management styles.
Pricing: Free plan available. Paid plans start at $190 a month.
Revelian is a market leader in psychometric assessment development with a strong history of innovation, including award-winning game-based assessments for recruitment. With a broad range of pre-hire assessments, more than 500,000 individuals complete Revelian assessments annually, for roles with more than 2,000 employers globally.
Companies using Revelian range from SMB's to Fortune 500 organizations and large government agencies.
Pricing: Custom. Contact them here.
Hiring engineers is a fast-paced race that everyone has joined at once. Our evidence-based platform helps hiring teams predict the real-life skills of their candidates, at scale. This brings faster hiring, time savings, and gives engineers more time to solve problems that matter.
Companies using Codility include Barclays, Amazon, Microsoft, American Express, Paypal and Slack.
Pricing: Custom. Request a demo.
Berke is a pre-hire assessment platform that helps businesses make scalable, confident hiring decisions. They measure the traits, skills, and abilities that predict what people 'will do' and 'can do' on the job. They provide actionable, easy-to-understand people data that apply to any job in your organization.
See the screenshot below to see the many ways in which their data software allows you to view a full breakdown of a candidate's personality traits, and their relative importance to the job.
Pricing: Custom. Request a demo.
Plum uses 'a sophisticated combination of 'AI and human psychology' to select the best candidates. The adaptability, innovation and communication skills of every candidate are measured and sorted into predictive talents.
They argue that with AI, social and cultural factors are dismissed in favour of cold, hard data, which results in a more diverse and inclusive workplace.
The data provided by Plum helps hiring managers coordinate a talent hiring strategy without being overwhelmed by the volume of applicants.
Pricing: Custom. Request a trial
The Estonian tech start-up, Toggl is best known as a time tracking app that aids time management and organisation. Their next development, Toggl Hire, however, has entered the candidate selection tool market because of their own hiring experience. Toggl Hire is specialised to fill a small number of high-skilled posts that have lots of applicants. The use of skills tests reduced the number of interviews carried out by 72%.
Toggl found that for hiring high-skilled, specialist jobs (such as web developers), CVs just didn't represent a candidate's ability. Their skills test is enjoyable for people with a genuine interest in the work. This widens the search for candidates to those that are just curious, rather than seeking employment.
Pricing: Free plan available. Paid plans start at $99 a month.
Arctic Shores uses a blend of AI, psychology and neuroscience to gather up to 12,000 data points on each candidate. They also use game technology to make their skills tests more entertaining and accessible to candidates, earning them an impressive 98% test completion rate.
Arctic Shores worked with KPMG to diversify their talent pool; making use of skills tests to judge ability beyond the conventional academic indicators. Arctic Shores created a bespoke test, evaluating candidates on values, graduate role and numerical ability, ending up almost halving recruitment time and taking on a broader range of graduates.
Pricing: Custom. Request a demo.
At Bryq the focus is on using blind candidate assessments to improve diversity and inclusion.
It identifies sixteen personality traits and four cognitive skills (numerical, problem solving, and attention to detail). Therefore, Bryq seems clear and more accessible in its operation than some recruiting tools which are heavier on the jargon.
Another cool feature of Bryq is that they put their science upfront with an easily accessible list of reference journals: the scientific underpinning of their software.
Pricing: From $99 a month. Request a free trial.
In summary
The best candidate selection tools are the ones that are likely to get adopted in your business and are proven to achieve your recruitment goals. Being clear on what you're trying to achieve and why is the first step to improving your candidate selection process.
For more reading on this subject check out the following posts: