Update November 2021: The market is changing as we emerge from the pandemic, and high volume hiring has never been more important or more difficult than it is today. As such we've reviewed our suggestions and tweaked our list to give you the very latest high volume hiring tips.
Are you hiring lots of people into the same roles and want to make sure you're doing it right? Want to create a volume hiring system that makes life easier for recruiters and hiring managers?Want to avoid the traps that other high volume recruiters fall into? Then this post is for you.
Mass hiring has some unique challenges for recruiters to navigate such as variable applicant volumes, complex candidate management issues, and unique pressures on time to hire. Fortunately, there are some easy-to-implement ways to improve your volume recruitment process which will make your life much easier. So let's dive in:
1. Build the right recruitment tech stack
Recruitment technology should be the bedrock of your high-volume hiring process. Choosing the right recruitment automation software will make your recruiters more efficient and your tech stack should consist of solutions for different tasks such as job advertising, applicant screening, assessments, background checks, and onboarding.
Implementing these tools will help you identify the most suitable candidates early on in the process and save you time on candidates who are not qualified for or committed to the role.
But remember, upgrading your recruitment technology is a bit like changing your engine in a car – it's easier to do it when the car is parked – so you'll want to take advantage of any hiring pauses or recruitment freezes to review your full-cycle recruiting process.
2. Use the right pre-hire assessment platform
Sifting through CVs and screening applicants is labour intensive. The average job advert receives 59 applicants, whereas an enterprise recruitment process will attract over 250 applicants per posting. [1] This problem is only getting worse with the number of job applications growing by up to 437% since COVID19.
Automating applicant screening will have the biggest impact on improving hiring efficiency so you need to choose the right screening and assessment platform for your volume hiring needs.
Pre-employment assessment software that is tailor-made for high-volume hiring, such as ThriveMap, can guide you to candidates with the right skills and characteristics regardless of their background or experience. So, rather than sifting through inappropriate applications, recruiters can concentrate on building and nurturing relationships with candidates instead.
Here are some key characteristics to watch out for when choosing the right screening and selection software:
Can handle large volumes of applicants
Customisable assessment experience according to role
Allows you to set your own hiring benchmarks and scoring thresholds
Includes realistic job scenarios and real-life tasks (proven to be more predictive than standardised tests)
Integrates / will integrate with your ATS
Read our buyer's guide to pre-hire assessments if you want additional help in this area of check out our 10 questions to ask before buying a candidate testing tool.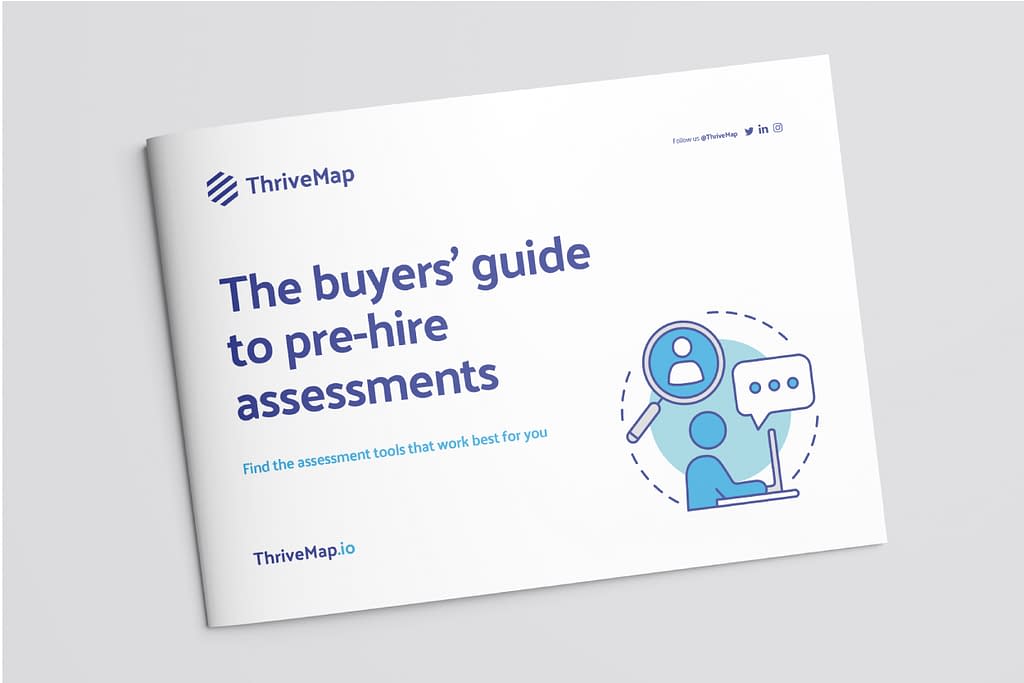 3. Communicate your Employer Value Proposition
Candidates want to know what it's like to work at your company before they work for you. Communicating a well-crafted Employee Value Proposition (EVP) will drive up your applicant volumes. 
Authenticity is critical to building trust, so we strongly recommend you communicate the realities of life in your company. That means exposing the bad as well as the good bits.
You'll need to promote your talent brand through social channels such as Glassdoor and LinkedIn as candidates will check these out when they apply. The strongest EVPs add legitimacy by coming straight from the employees who know your company best.
Other options include:
'Day in the life of' videos – see Lemonlight
Realistic Job Assessments – see ThriveMap
Employ VR to show candidates around your office – see Spatial
Using Instagram to show daily working life at your company
4. Measure Quality of hire
Even though you're looking to recruit at scale, you should never compromise on the quality of hire. It's one of the key recruitment metrics we recommend you keep track of.
To improve your high volume hiring process with quality of hire in mind might include:
Implementing some valid and reliable online assessments
Making sure you're asking fair interview questions via structured interviews
Keeping an eye out for transferable skills and candidate potential, not just prior experience
5. Use external recruiters and recruitment agencies
For those in-house recruiters and hiring teams who face the pressure of hiring for tens of positions each month, external recruitment support can be invaluable, especially for hard-to-fill roles.
Agencies can charge significant amounts – anywhere between 10-35% of the starting base salary. However, they offer incredible support throughout the recruitment process; from identifying and connecting with the eligible candidates, to screening and supporting your in-house resources through the selection process.
6. Create a talent network
Imagine having a talent pool of engaged, pre-qualified candidates at your disposal. Sounds attractive doesn't it?
Each time you advertise for jobs, you get hundreds of applications from individuals who are interested in working for your company. These applicants, if not successful should be nurtured and kept on your recruitment CRM for future vacancies.
Many candidates will be inappropriate, to be cut by effective pre-screening technology, but others will be promising and might be a good fit for future vacancies.
Building an effective talent network, and nurturing it with relevant content is a great way to reduce your cost per hire.
7. Track hiring velocity
Almost 57% of applicants reported losing interest in a job if the hiring process took too long [2]. It's damaging for a business, in relation to cost and talent, if they can't get people through their doors in a timely fashion.
Knowing how long each stage of your hiring process takes will help you see where the inefficiencies lie.
Time to hire and hiring velocity (the % of vacancies that get filled on time) are two key metrics you should be keeping an eye on as they provide a clear indicator of how efficient your hiring process is.
8. Keep an eye on industry trends
An undervalued way of improving your volume hiring process is to stay on top of industry trends and developments. Industry events and recruiting conferences can be a great source of inspiration. Listening to peers talk about how they have improved their volume recruiting processes is critical to ensure you're seeing evidence for any possible changes you're looking to make.
Dedicated recruitment podcasts and webinars can also be a great way to keep abreast of regulatory and technological developments in the recruitment industry.
9. Guard yourself against hiring bias
As a volume recruiter, your goal is to find the best candidate for the job; hiring bias often scuppers that. Bias becomes unavoidable when large parts of your hiring process are either manual, subjective, or unstructured. A good way to mitigate unconscious bias is to build a structured interview process that is both objective and fair.
You might think that AI is the way to go here but, hiring bias can quickly become systematized as AI algorithms are based on previous human decisions and will simply replicate their biases.
There are lots of ways around avoiding bias, but some of the easiest to implement include:
Blind hiring – removing all irrelevant information about candidates
Using job realistic pre-hire assessments to evaluate candidate ability
Base hiring decisions on data and evidence, not assumptions with structured interviewing and interview scorecards
Have a transparent hiring process, all scores should relate to a documented ideal candidate profile
Provide interview training to all hiring managers
Interested in reducing hiring bias? Read our e-book beyond gut feeling: a practical guide to fairer hiring.
Conclusion
There are quick wins to be had, but most of the ways to improve your volume hiring process involve fundamental changes to processes and procedures that optimise for hiring efficiency. However, it's important that improvements are delivered without impacting the quality of hires made.
Having the right technology in place is not enough. You need to be able to deliver an engaging experience for candidates and you need to have a clear strategy on how your process can be best implemented at scale.